The Super Bowl is highly regarded as one of America's most watched games. Full of rivalry, competition, and upsets,
Super Bowl XLVI
, is sure not to disappoint.
This year, however, Andover is rooting for both teams. Bill Belichick and Ernie Adams, both Andover '71, look to avenge their to the Giants in Super Bowl XLII loss (2007).
That year, the Giant's drafted linebacker and long snapper Zak DeOssie, Andover '03, from North Andover. During his senior year at Andover, he was the captain of both the football and the basketball team and was selected to play in the All-New England Prep Team (football). He played college football at Brown.
The story of Ernie Adams and Bill Belichick. From
ESPN
: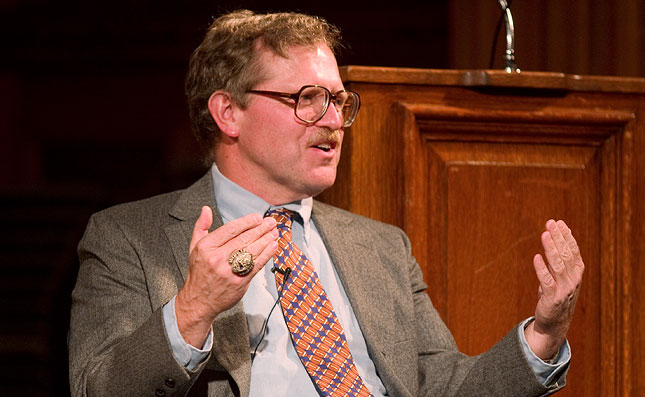 Adams '71 has three Super Bowl rings.
Adams and Belichick met in 1970. Adams had been at Phillips Academy in Andover, an elite New England boarding school, for three years. In that time, he'd become a campus legend, famous for his quirky attire and habits. He wore high-top cleats and old-fashioned clothes, looked and talked like someone from the 1940s. His three obsessions were Latin, naval history, and strangely, football. So he consumed books, mostly obscure titles with a scholar's thirst. One he can across was called Football Scouting Methods by a Navy assistant coach named Steve Belichick. As Halberstam, a Pulitzer prize winner, details in his biography of Belichick, Education of a Coach, only about 400 people bought the book: professional scouts and 14-year-old Ernie Adams. So, imagine Adams' surprise when, as his senior year was beginning, he walked out onto the football field and encountered a young man with "Belichick" written on tape across the front of his helmet.
Bill Belichick '71 leading the Patriots.
Bill Belichick had recently enrolled at Andover as a PG, hoping to raise his grades and test scores so he could get into a good college. A few questions confirmed Adams' suspicions. Are you from Annapolis? Are you related to Steve? Yes and yes. Belichick thought it was strange that a kid would have read his dad's book. Adam recognized something familiar in Belichick. He recognized himself. "He actually was pretty good in his judgement of people," says Hale Sturges, the professor in charge of South Adams Hall, where Adams lived.
They've been like brothers ever since, spending hours after practice breaking down film, diagramming famous plays of Vince Lombardi, Adams' idol. They snuck into Boston College practices to "scout." Together, they played on the undefeated Andover team, the first time the tow men tasted perfection.
That year, Andover beat Exeter 34-8.
In 2011, Belichick was inducted into the Andover Athletics Hall of Fame. He joins the ranks of George H. W. Bush '42 who was the captain of the baseball and soccer teams; class president; and the 41st president of the United States. Belichick was also honored with Andover Distinguished Alumni Award in 1987, declared a day in his name in 2002, and was honored with its Distinguished Service Award in 2008.
Super Bowl XLVI airs on February 5th at 6:30pm ET.